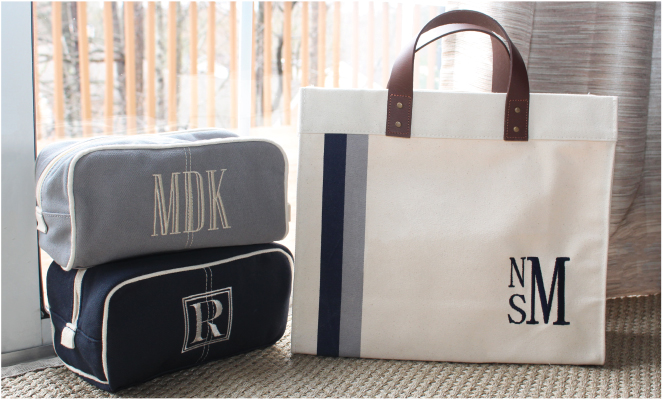 Unique Gifts for Any Occasion
Nothing is more unique or thoughtful than a one of a kind personalized gift to celebrate all of life's special moments. Just envision your loved one unwrapping a present you picked out and personalized just for them! Whether it's a personalized gift monogrammed with their name, initials, sports number or any other phrase with meaning; everyone loves a gift that's just as unique as they are.
At CB Station, we have a number of extraordinary gifts that can easily be personalized for any occasion such as graduation celebrations, holidays, or seasonal trends in addition to items for everyday use. We offer a large selection of 100% cotton canvas totes, travel bags, and home accessories that make excellent gifts that can be purchased as blanks or personalized in a number of ways. Whether you're looking for something as formal as a wedding gift, or as casual as a beach tote, CB Station is sure to have just what you're looking for when it comes to all things personalized gifts.
Solid Navy Rope Tote
, 
Jute and Canvas Bags
, Graduation Personalized Gifts: 
Garment Bag
, 
Dopp Kits
, &
Makeup Bag
When to Give Personalized Gifts
Personalized gifts offer a unique way to mark a number of different milestones or occasions. CB Station offers so many options for different ways to personalize or make our products "your own" that there's no limits to when and where a personalized gift fits into the picture.
Baby Showers, Wedding Receptions, Vacation Souvenirs, Event Prizes, Graduation and annual Holidays are among our favorite special occasions perfect for personalized gift giving. Nothing puts a smile on a new mom's face than seeing her unborn baby's name embroidered on a gift, or a newlywed couple's brand new joint monogram order form on a his & her's travel set. If you're looking for a gift that wows - CB Station can provide that special touch with a stunning product customized specifically with care for your family and friends.
What Makes a Personalized Gift so Special?
Whether you are the person buying and giving the gift away, or opening and receiving the gift for yourself, the consensus is in - there is just a wave of excitement that comes over you when you see a finished personalized gift. Upon seeing the final product, the gift givers often exclaim "Oh my gosh! He (or she) is going to love this!" or, "This is so her (or him), it's perfect!". It's one thing to give someone a gift, but to add a personalization unique to them adds a level of increased value to it that only comes with pure thoughtfulness. It all comes down to the fact that personalized gifts just makes the person on the receiving end feel special.
Another great reason to give personalized gifts is because statistically, we're least likely to buy personalized gifts for ourselves. It's just so much more fun to go through the process of picking out and personalizing something for a friend knowing they have no idea and will be so surprised when they finally get to open your gift. Even if you do chose to buy one for yourself - the element of that joy and surprise just isn't the same as it is when you're the one giving the personalized gift.
Personalized Christmas Gift Ideas
, 
Personalized Dopp Kit
 &
Zip Bags
, 
Personalized Makeup Bag