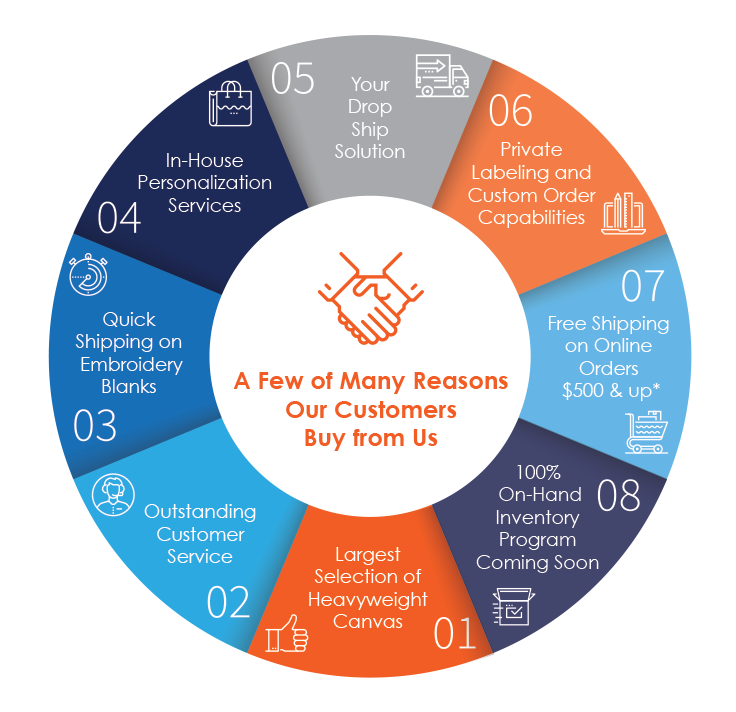 1.We Offer the Largest Selection of Heavyweight Canvas Products
Whether you're in the market for canvas totes or weekender bags, home accessories like storage or aprons, or just searching for new, unique wholesale embroidery blanks - we all know how important the look and design is when it comes to making a purchasing decision. But, at CB Station, we believe durability should be a top priority too. We put our bags through a lot. We drag them with us in our travels, putting them on dirty conveyor belts and shoving them into small plane overhead bins. We toss them onto worn hotel room floors, and often stuff them beyond full capacity with everything we think we could possibly need while spending time away from home. This is exactly why when you're looking to purchase a new line for your store, you should consider the journey that product will take beyond your storefront window display… and what normal wear and tear your customers will put it through simply by enjoying it. Our heavyweight canvas is durable and long lasting by nature, which is why we always carry a large selection of timeless styles like Advantage Bags, Boat Totes, Rope Totes, Weekender Bags, Round Duffels, Makeup Bags and Clutches in a variety of colors. We care about the longevity of our products and strive to develop a new, modern generation of timeless styles that you won't find anywhere else. We have succeeded in that with our Laundry Duffels, Dopp Kits, Garment Bags, Jute Market Bags, Handy Open Top Totes, Maritime Totes, Tennis Totes, Utility Totes, Wine Totes and more!
2.We Make Outstanding Customer Service One of Our Top Priorities
At CB Station, we strive to answer all calls with a smile on our face and address any of you questions or needs with a friendly and helpful attitude. We offer live-chat support on our website during business hours and update our growing frequently-asked-questions database directly on each product page within our website. We continuously thank our customers for their continued support and for the confidence that they place in us each and every day. CB Station does not take that confidence for granted. We know very well that our customers are the center of everything we do here, which is why we aim to work towards ensuring that we not only meeting but exceeding your expectations in every way we can as we continue to build a stronger partnership together.
3.We Provide Same Day Shipping on Embroidery Blank Orders Placed Before 2pm EST
Whether you run a chain of brick and mortar stores or are in the beginning phases of starting a home-run embroidery business, our wholesale program is an easy and excellent way to expand your product offering while growing your business. However, on many occasions you'll find yourself working with a customer who's short for time and need their personalized gifts fast! That's when CB Station's quick wholesale embroidery blanks shipping program comes into play - we ship any blank orders placed before 2pm EST same day from Atlanta, Georgia. Depending upon your location, you could easily receive your wholesale embroidery blanks order as quickly as 1 or 2 business days.
4. We Offer Countless Ways for Your Order to be Personalized
All of our wholesale products are designed to be completely monogram friendly, allowing for endless personalization opportunities. CB Station specializes in monogramming, custom logo embroidery, and screen printing, so we can ensure no matter which method of customization you choose, the process from start to finish will be seamless and meet (if not exceed) your expectations. You can email us at
[email protected]
to find out more about this service or inquire about a quote for your logo.
5.We are the Drop Ship Solution for Your Personalization Needs
Looking for more than just wholesale blanks? You've come to the right place. Even if you don't have the capacity to offer customized products yourself, we currently provide an array of in-house personalization services. We offer in-house monogramming starting at $4.99 for up to 10 characters with a standard 5 business day turnaround. Or, if you're not a fan of the the "old-fashioned" stitched out art or name-drop or have a larger/more complex design, screen printing may be a more practical approach. Screen printing offers an an additional option of personalization with the added benefit of using multiple colors or raising the detail/complexity in a design without significantly driving up the cost. Using the latest screen printing technology on your wholesale blanks, we can achieve superior results without the limitations of a chassis size or thread count.
6.We Can Private Label Any of Our Products or Manufacture Custom Products for You
Standard Turnaround time for production is 10-12 weeks from the date the PO is received. Please email
[email protected]
to learn more about this program.
7.We Extend Free Shipping on Online Orders $500 & Up
This promotion includes free ground shipping applying to online orders with merchandise totalling over $500 shipping within the Continental U.S. and is only valid on in-stock items. If your order contains backordered items, you have the option at checkout to wait and ship all items together when the order becomes in-stock to qualify for this promotion.
8.100% On-Hand Inventory Program - Coming Soon
CB Station is working towards a 100% on-hand inventory program in order to better serve you and your company's growing demand for our products.