Wholesale Canvas Aprons As Holiday Gifts
One of the big trends we're already seeing this holiday season are shoppers looking for gifts that they can not only personalize, but that can be used while stuck at home for the foreseeable future. This makes for the perfect opportunity to stock up on home holiday gifts like
wholesale canvas aprons
. Whether they're a Pinterest recipe enthusiast or pulling from a book of family recipes, everyone loves a chic apron that can take on everything from baking and frying to BBQ-ing outside. There are two things we immediately love about selling canvas aprons around the holidays: First, the memories to be made while cooking or baking holiday food plays a big role in driving up sales of anything that is related to beloved traditions like that. This means that there is ample opportunity to reach customers outside of the traditional gift-giving lens. For families especially, the opportunity to have matching child-parent aprons adds extra meaning to holiday fun.
The second thing we love about selling canvas aprons around the holidays is that it is a highly personal gift that is pretty widely used. You'd be hard pressed to enter a house and not find at least one cook, griller, or baker who lives there. Even if cooking is a hobby more than a habit, there will always be an apron around. Read on for a quick overview of the wholesale canvas aprons for adults and children that we sell:
WHAT ARE CANVAS APRONS?
Our canvas aprons are heavy-duty aprons that keep clothes free from spills, stains, and splatters. At CB Station, our canvas aprons are durable and easy to clean after a long day or night of cooking. We provide
canvas aprons in bulk
and with the option to have them personalized with embroidery.
WHAT ARE APRONS USED FOR?
Customers can use an apron to keep spills and splatters from staining their clothes. Aprons also keep customers protected while cooking with high temperatures and sharp materials.
HOW LONG IS THE CANVAS APRON?
Our adult wholesale canvas aprons come in the size of 32" H x 26" W, while the children's canvas apron is 25" H x 19" W. Each apron features a front pocket, adjustable neck strap, and a cotton webbed waist tie.
WHY IS WEARING AN APRON IMPORTANT?
Aside from keeping your clothes clean and solid, aprons provide functionality while moving around the kitchen. Our
waxed canvas aprons
are equipped with a pocket for you to store your cell phone, sponge for cleaning, as well as cooking utensils. Keep these things handy while cooking your favorite meal. It's also important to wear an apron to keep your clothes free from stains and spills.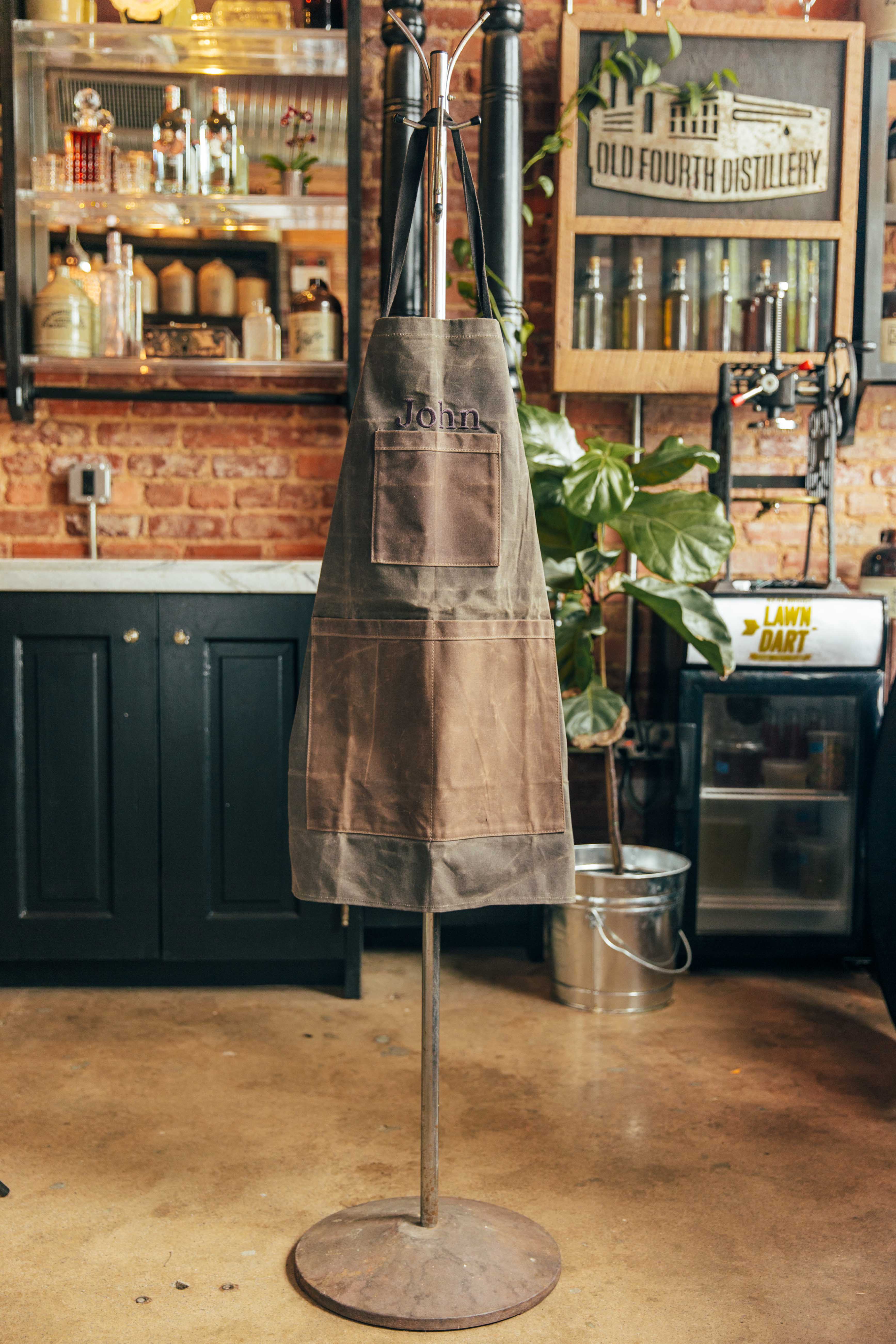 If you're in a professional restaurant or catering setting, an apron helps colleagues and clients quickly identify you and know who's in charge of food. At
CB Station
, we have a range of aprons for all professions and cooking enthusiasts. Whether your customers are behind the bar or hosting friends and family at home, we pride ourselves on having the best aprons available. Browse through our selection and speak to our team of experts to help find the best aprons to add to your inventory.