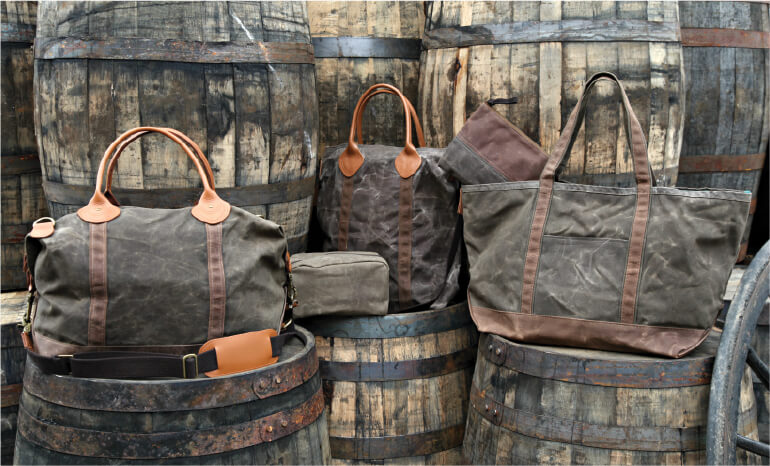 Waxed Canvas Product Care & Upkeep to Ensure it Lives its Longest (and Best!) Life.
Cleaning and Maintenance Tips for CB Station's Waxed Canvas Collection
CB Station's Waxed Canvas is developed using our already durable cotton canvas and adding a refined wax finish. This effect provides a safeguard layer finish of additional protection from everyday wear and tear, allowing for an even longer lifespan in your product. CB Station's Waxed Canvas products becomes less like a softer cotton product and instead mimics the performance of leather. Over time it will patina naturally, creating its own unique look, but still appears ageless even with repeated use. Waxed Canvas is inherently built to last. The history of the material itself began with sailors attempting to make waterproof ponchos coated with linseed oil to protect their skin from harsh weather conditions at sea. Overtime, they found it to be so effective they replaced sails on the ships with the same materials to waterproof and strengthen the sails. Waxed Canvas replaced the linseed oil treatments (which hardened and cracked with age) because it had much better longevity. Eventually, these Waxed Canvas treatments expanded from nautical use, and made its way into garments, which become extremely useful to farmers and outdoorsmen alike. Tough or not, however, repeated use (especially outdoor use) of anything will render your it dirty over time. Regardless of whether you use it only on outdoor trips or camping or if you're lightly using it each day - it's going to change and show signs of wear. If you find yourself feeling you need to clean your Waxed Canvas bag, we have some crucial tips in doing so. Most importantly, don't overdo it…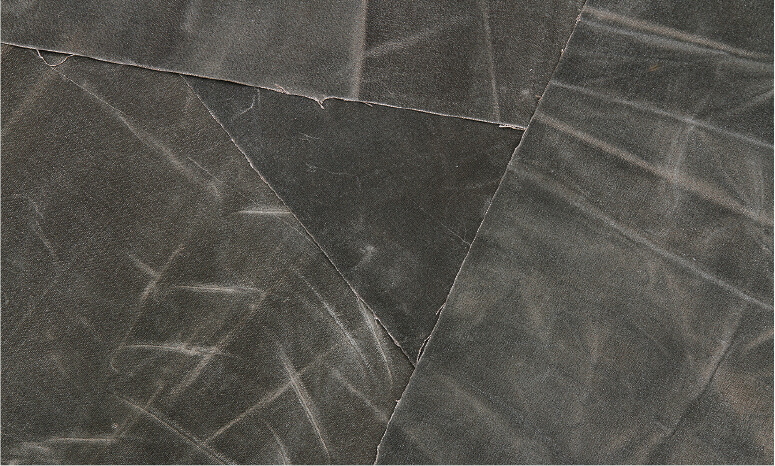 Examples of CB Station's Olive Waxed Canvas in Detail
Care and Cleaning of Waxed Canvas Do's & Don'ts: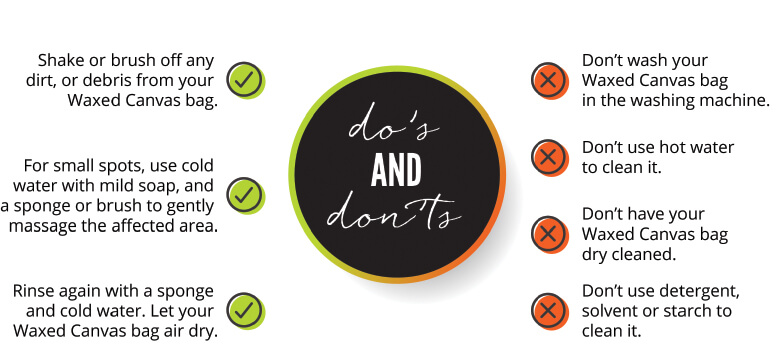 In detail, we recommend the following process:
Lightly brush off dried mud, dirt or other debris with a brush.
If that isn't enough, add a little plain, cold water for cleaning
Rinse it off, and gently go back over it with a sponge or non abrasive scrub brush.
Rinse it again with cold water, and let your Waxed Canvas bag air dry.
The less you have to brush or scrub it, the better. For more stubborn spots or stains, mild soap such as pure soap flakes or saddle soap (leather conditioner & cleaner) may help finish the job - we recommend testing a small area first.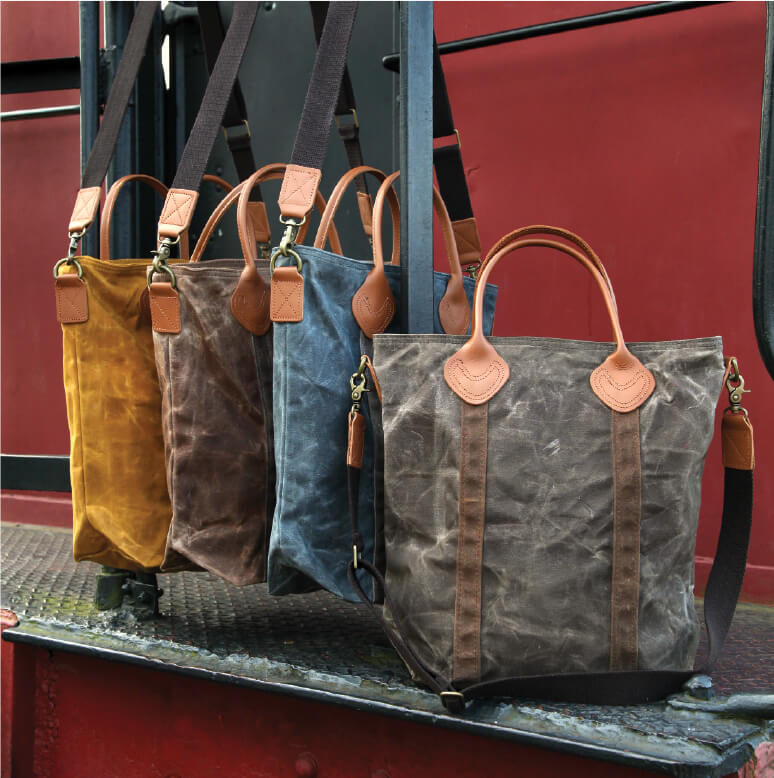 Is my Waxed Canvas Bag really "dirty"?
Honestly, probably not. Many use these products for years without ever cleaning them. In fact, many prefer the worn in Waxed Canvas that is so obviously "lived in" because it gives it great character. What better way to remember an adventure by a small knick in the corner from a brush of a branch, scent of campfire, or a coffee stain from an early morning after a night under the stars? These bags tell a story - your story. Don't feel like you have to rob them of that character.
My Waxed Canvas bag isn't dirty but it's got some deeper creases I don't like. Can I fix it?
Lightly using a hairdryer on any of our waxed canvas products to reduce or remove the appearance of an unwanted scratch or crease from folding will restore its original look. But, just as we mentioned with the cleaning above - the less you fuss with it, the better. Overdoing it could strip some of the waxed finishing off.
How should I be storing my Waxed Canvas Bag?
We highly recommend hanging your bag when not in use. Sitting on a cold concrete floor of a damp basement or garage is about the last place you want to leave these products. Those environments are a breeding ground for bacteria and mold. By hanging your Waxed Canvas bag indoors in either a mudroom or closet, you're keeping it in the best shape for its next adventure.
We all know that even a water resistant, heavy duty bag has a higher likelihood of exposure to getting spots and stains with repeated use. We hope you've found our guidelines above for cleaning your Waxed Canvas products helpful to restore your bag to your liking.