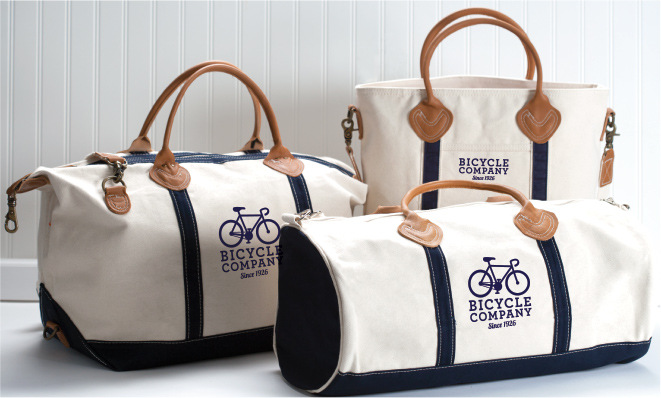 Adding a Personal Touch to Corporate Gifting
Add a personalized touch to your next business gift or recognition award when you choose personalized corporate gifts from CB Station. Our unique line of products offers a wide variety of business gifts for both men and women alike, and the versatility of use amongst our styles makes them perfect for any profession. Recognize your employee's dedication to success with a high end
personalized canvas tote
, travel bag, or weekender - we can assure you with personalized corporate gifts like that, they'll be sure to keep up the hard work Whether you're looking to honor a beloved employee who's retiring or celebrate a new baby within your circle of business professionals, CB Station has a number of perfect gifts for any corporate occasion. Show your employees or coworkers just how thoughtful the company really is with a gift just as unique as they are.
Showing Appreciation with Corporate Gifts
As any good employer knows, a business can not operate without the loyalty and dedication of its employees. Appreciation is a breath of fresh air to those who've been working around the clock to reach the company's business goals - so what better way to say "thanks" and show them how much you mean it than to give a personalized corporate gift to those who keep the business running like a well-oiled machine? When giving an employee a personal thank you, we recommend a personalized wholesale gifts with something specific to them; their name, date of recognition, or something else a little more important to them than just the company's logo. Or if you've got too many recipients to get that specific, perhaps gift them a product that aligns with their passion or hobby outside of work, such as gardening, playing tennis, or cooking?
Branded Corporate Gifts
Branded corporate gift-giving is a great way to show both employees and customers alike just how important they are to the company. Whether you need something to gift everyone at Christmas or one person who's just received a promotion, CB Station offers many versatile options at virtually all price points - so if you've got a color, style, and/or budget in mind, we're sure to have a perfect corporate gift idea for your next event! Choose from many different colors, fonts, and styles to stay true to your brand and its image. Don't know where to start? Not to worry, our sales team can offer suggestions after learning a little more about your company and its culture.
Personalized Gift Small Square Striped Tote
,
Personalized Gift Flight Bag
, 
Personalized Gift Advantage