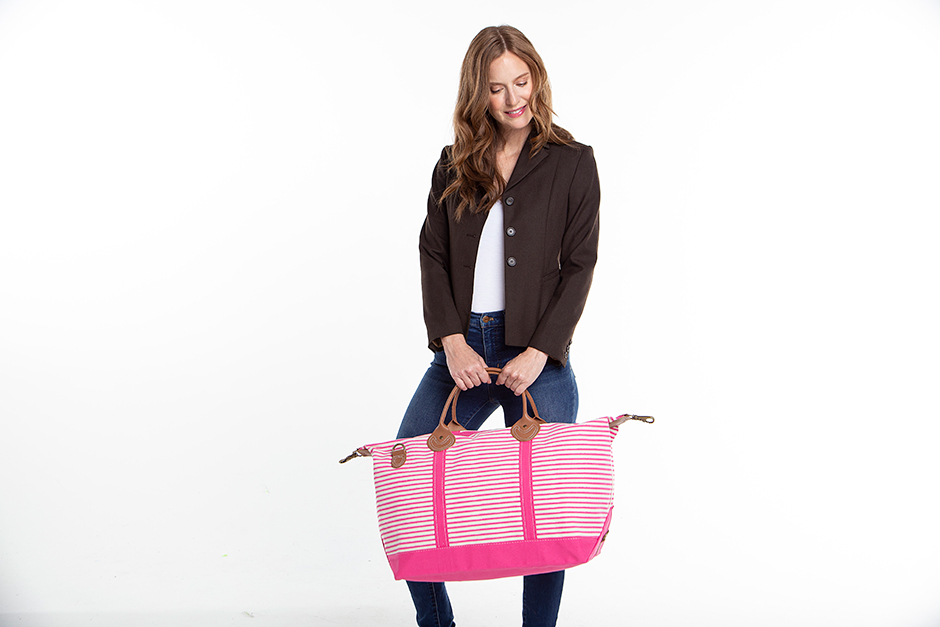 How to Get Ready for Spring with These Bag Trends
Spring has sprung and you know what that means, new arrivals and new trends! From stripes to straps, we have a whole host of exciting new things for the spring season.
New Styles
Crossbody Boat Tote
One of our most exciting spring arrivals is the
crossbody boat tote
! It is available in metallic green, navy, silver, gold, rose gold, hot pink, natural, and gray. It features an inside pocket, an adjustable shoulder strap, and top zip closure. It is the perfect size to carry your everyday essentials and is beyond adorable!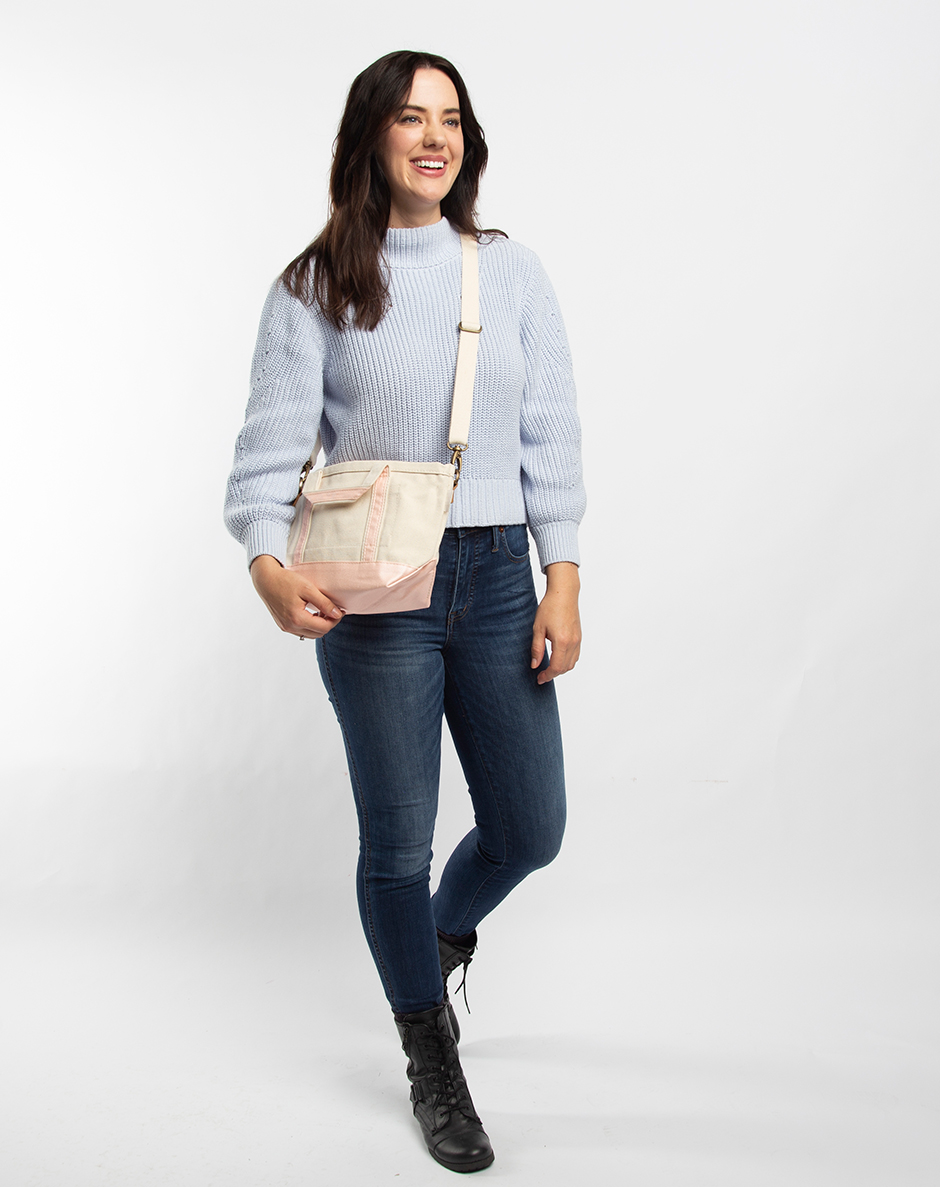 Detachable Bag Straps
We also have designed 6
detachable bag straps
that can be added onto any of our bags that feature metal rings on the sides. Our standard straps encapsulate three stunning floral designs that range in color, and our other 3 designs feature stripes. These straps are such a fun way to switch up your look with the seasons and express yourself!
Waxed Canvas Large Desk Tray
One of our most popular new arrivals is the
waxed canvas large desk tray
. This works as the perfect catch-all tray and even folds up so you can take it with you when you travel! It is available in 5 gorgeous colors: slate, olive, mustard yellow, black, and khaki. This tray makes a great men's gift and is just the right size to store all those little things, like your wallet and keys!
Mini Advantage Bag
This new arrival has been flying off the shelves already! One of our bestselling products is the Advantage Bag, and you all loved it so much that we decided it was time for the
Mini Advantage Bag
to make its debut! It features all the things you loved about the Advantage Bag, including the sturdy leather straps, snap closure, and pockets. We've taken all its best features and made it mini! This bag is great for an everyday work bag to throw in your laptop, wallet, keys, and other essentials, without having to lug around a giant bag.
New Trends
With every new season there is the arrival of the latest trends. Spring 2022 will see the emergence of bright colors, larger bags, and reimagined basic pieces.
Reworked Basics
First off, we have the rising popularity of
making innovative design choices with basic pieces
. This is making its debut on the runway of course! From button down shirts to trousers, these classic pieces are getting revamped with interesting lines and collars.
Colors
This spring's popular colors are going to add a lot of joy! Bright colors such
as kelly green, bright yellow, and sunset orange
are all the rage this season. Infusing these colors in your wardrobe will help you make a fun statement all season long!
Big Bags…Like Really Big Bags
Large bags have been a trend before, but this spring these bags are giving a whole new meaning to the word! Giant bags are very much having their moment right now, and designers from the likes of Tory Burch are even getting in on this. Forget just having room for your day-to-day essentials, these
bags could act as a carry-on
for a short trip!
Stripes Galore
This spring say hello to our new stripes collection! From coolers to travel essentials, we have it all!
Stripes Train Case
Stripes are such a classic and fun pattern; they truly never go out of style. Our new
stripes train case
features this timeless pattern and is just the right size to carry all your travel essentials from one destination to the next. It features a top handle, zipper closure, and a polyester lining that can be cleaned with a simple wet wipe. This adorable train case comes in a range of spring colors, including rose tan, pastel yellow, clear sky, myrtle green, navy, and classic gray.
Stripes Box Cooler
Trendy meets functionality in our new
stripes box cooler
! It features a USDA approved insulated lining, zip closure, front pocket, top handles, and crossbody strap for easy transport. This super functional cooler is perfect for those spring and summer trips to the beach or lake, and is available in all the spring colors that the train case comes in.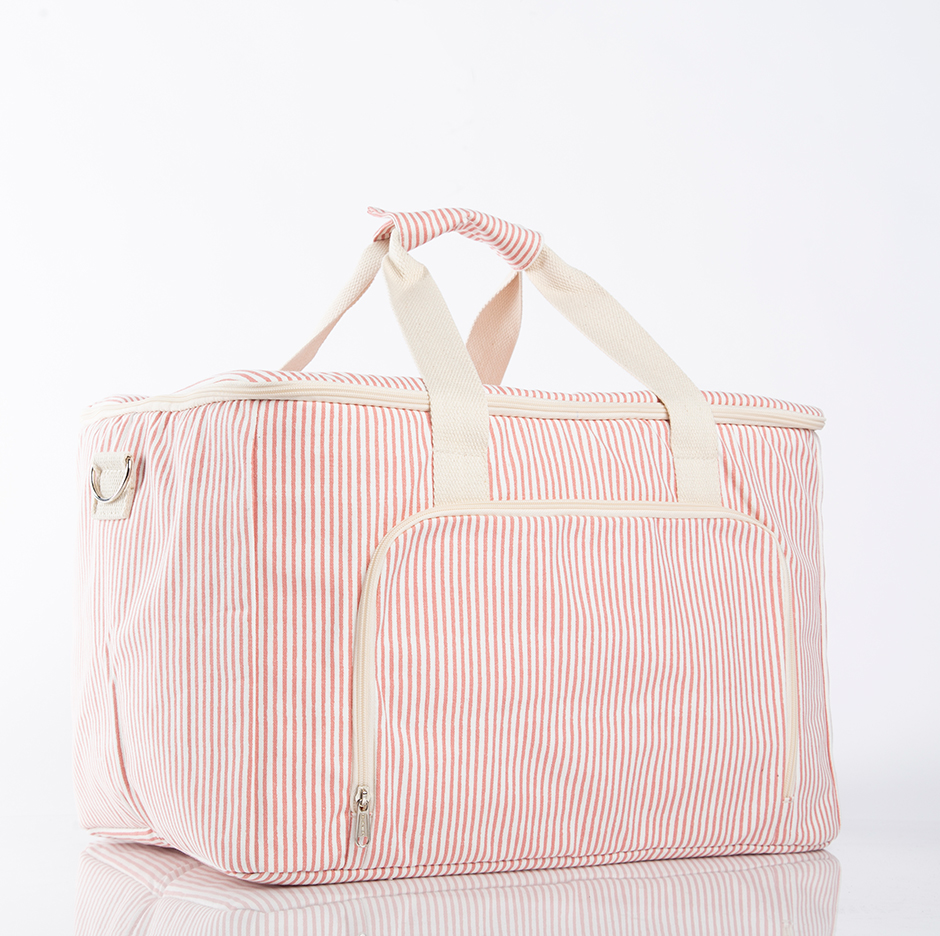 Stripes Cooler Tote
If the stripes box cooler seems too large for your clientele, then you will love the
stripes cooler tote
. This smaller cooler is the perfect size to take out on the boat or to the beach for a nice picnic. Plus, it features the same stunning stripes and trending colors along with a USDA approved insulated lining, front pocket, zipper closure, and canvas handles.
Stripes Circle Case
Our brand-new
stripes circle case
is perfect for storing those little items on your trip, like jewelry and everyday makeup products. This precious little case features a zipper closure and a polyester lining that can easily be wiped clean. It is available in the same super cute spring shades as the rest of the stripes collection!
Embellishments
Monograms and fun embellishments are always a hit. Specifically for spring, the following icons are must-see:
Anchor
Bicycle
Lobster
Flip Flops
Check out all of our new arrivals for spring and see our wide selection of embellishments on our
website
!