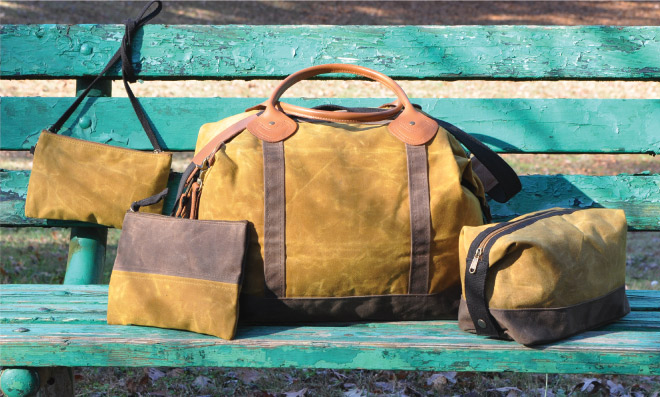 Find Your Perfect Travel Companion Set
The travel bag you bring for a quick weekend trip or longer adventure shouldn't just hold all of your essentials or get you through TSA - it should do all of that while being sturdy, stylish and practical.
Nothing beats our classic Weekender in Navy - unless you're adding a matching garment bag of course! Our two best-selling travel companions in one of our absolute favorite color options, the Navy Weekender paired with the Solid Navy Garment Bag is a sure-fire way to keep it simple without compromising space, organization options or style on the go. Our Weekenders all come equipt with a small hanging organizer pocket, complete with multiple compartments, and our Garment Bags (when open) feature two spacious zip pouches as well. Don't settle for second best when you can have these two at your side!

If you're searching for the perfect classic travel set with an added pop of color, the Pink TrimGarment Bag & Pink Weekender is the perfect combination for you! These two bags look clean and stylish on their own, but gain an added preppy appeal with the addition of a monogram or logo. When you're going away for a week or so and really need an additional bag to your weekender without wanting to add bulky or ugly "luggage", try pairing it with matching accessories instead. Show off your sophisticated style with ease when traveling with this companion duo.

Shown here in the Yellow trim color option, the Waxed Canvas Weekender & Top Zip Dopp Kit is one of our most popular travel companion sets. Also available in Olive, Khaki, and Slate, all lined with a gray stripes canvas inner lining, it's easy to see why this duo is at the top of its class! These high quality, sturdy weekender bags and travel accessories are made to be used over and over again, while withstanding the common abuse of being thrown into the back of the car, shoved into the overhead bin of a plane and so much more without ruining the products. In fact, our waxed canvas styles actually begin to look more rugged and worn-in with heavy use.

Available in both Khaki & Olive Waxed Canvas options, the Voyager Collection consists of theperfect lined weekender bag and matching garmet bag. This built to last travel duo's super rugged appearance actually looks even better with age as continued use helps to draw out the waxed canvas's unique characteristics. The Waxed Canvas Voyager Garment Bag & Voyager Weekender in Olive (shown above) features a green and blue plaid inner lining, whereas the Khaki color options is lined in a red and orange plaid inner lining. Both body & lining options make this line a great option not only for travel, but camping and other outdoor adventures as well.